January 9, 2020
Essential Marketing Automation Functions to put Your Lead Management on Autopilot
Danielle Carson
Entrepreneurs and small business leaders are the ultimate hat-wearers. Unlike bigger, resource-opportune corporations, startups are scrappy. Anybody in a sales role likely isn't doing just sales, the marketing person might double as HR, and the CEO likely wouldn't be able to fit all his or her descriptive titles on a business card. Resources are scarce in order to put revenue back into the company for growth. If this sounds familiar, marketing automation can likely help you free up your employees' time and aid in your business growth while you focus on all the other things your business needs.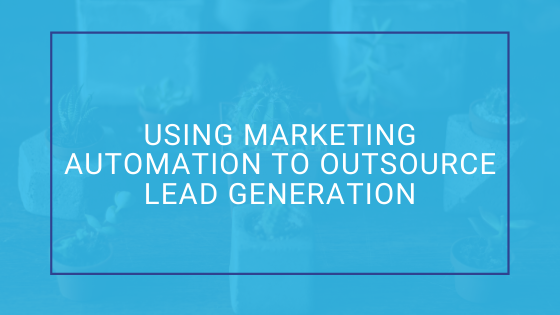 What is Marketing Automation
Marketing automation is the use of technology to automate elements of your sales and marketing processes. While you are always looking to get more leads, implementing marketing automation allows for lead nurturing and followup at scale. There are many aspects and angles of marketing automation, but let's talk about email marketing.

Marketing Automation through Workflows
One of our favorite ways to use marketing automation to outsource lead generation is through workflows. Also called drip campaigns or nurturing sequences (and likely a few other names I'm forgetting), workflows are a series of emails intended to automatically move a buyer along in the journey.
Learn more about the basics of lead gen in our guide. Get it here.
Enrollment
So how do you kick off a workflow and start automating your lead gen? Well, there are a few ways, but they all involve the user taking a specific action- visiting a specific website page, adding items to their online shopping cart but then abandoning it, making a purchase, etc.. We typically enroll users into workflows using content or "lead magnets." We offer up a piece of content (eBook, infographic, comparison guide, etc.) that a user fills out a form to access. We get their contact info – including email- and they get their content. (Read more about this exchange here.)
From there, we know 1) who the user is, 2) what they downloaded, and 3) have the ability to infer what they are interested in. You might even get more info from your user like when they want to purchase and the persona they identify with depending on your form. (Again, here's more information on forms and conversion funnels if you want to know more on that subject.)
Nurturing
Once a user is enrolled, your goal is to move them along. Nurture them with useful content and keep your business top of mind. We usually do 10-15 emails in each workflow campaign starting with a friendly, "Thought you might like this thing my company has" and ending the last email with a direct, "Contact us." Three things to keep in mind here as you build out the contents of your emails:
1) Interest
What are you emailing your leads about? Go back up a paragraph and find the word useful before the word content. Super important distinction. The most successful workflows are ones that continue to pique the interest of the user. If they downloaded an offer on subject A, don't email them about subject Q. Your workflows should walk your lead through a natural progression of subject matter that ultimately leads back to a bottom of funnel call to action (contact us, schedule an appointment, buy this, etc.).
2) Timing
The timing of your workflows can be critical, and sometimes it can be hard to get exact. Too frequent and you'll make an enemy. Too infrequent and they could move on to other options or lose interest entirely. As a general rule, we recommend about 7-10 days between these types of email communications, gradually increasing in frequency as you start to close in on your sale.
If you captured any timeline from the user on your form, use that, too. If they indicated they are looking to buy in the next 2 months, a more aggressive workflow might be in store.
3) Other communications
What other marketing do you have going on? Make sure your leads aren't enrolled in more than one workflow at a time. Additionally, use this opportunity to uphold other marketing efforts and communicate consistently.
Marketing Automation through Sequences
Another way to use marketing automation to outsource lead generation is by sales sequences. Take this scenario: Somebody submits a Contact Us form on your site. You email them back. No reply. You email them again. No reply. One more time for prosperity's sake? No reply. So much wasted time. With sales sequences, you can automate that follow up. Draft templated followup emails to leads and have them automatically sent on a predetermined schedule.
The same is true for cold-calling/emailing. Trigger your sequences by sending the first email out to your target(s) and let automation handle the followup. You can set followup and reminder emails to go out at specified intervals automatically rather than having to remember to do it yourself. For instance, you can send a cold email out on a Monday, and have marketing automation email that Thursday, at the end of the following week, and perhaps once more a week after that. Without automation, you would need to set reminders to do this and would likely be writing every new email rather than falling back into the loving arms of a template. Check out these leads followup tips to help you get started.