The saying goes, "Work smarter, not harder." But in a lot of cases, you need both. You need someone or something to work smarter and harder. That's what marketing automation provides. Marketing automation is technology that allows you to automate, streamline, and measure your marketing tasks and workflows. By utilizing it, you're being smarter about where your time and efforts are spent by allowing automation to do a lot of the heavy lifting for you. Like we covered in our blog on sales and marketing automation, marketing automation helps to accomplish the following:
Updated tracking
Real-time alerts
Automated lead-hand off
Forms
Landing pages
Social post scheduling
Emails
Lead nurturing
Lead qualification
But did you also know that it can help with lead generation?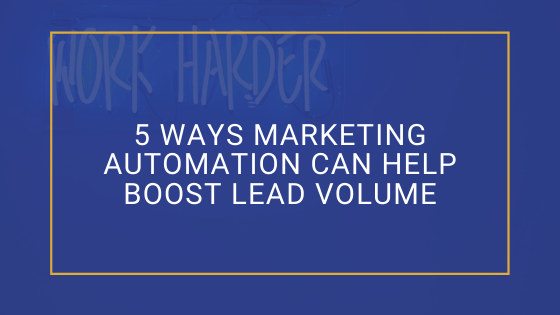 1. Leads and Landing Pages
How do you turn a lead into a customer if you're not first capturing them as a lead, to begin with? Lead generation landing pages are a great way to capture those new leads and gauge if your prospects are interested in your product or service. Marketing automation platforms or "MAPs" will generate specific landing pages that speak to the segment of the audience you're targeting and display relevant content and resources to them, automatically. Here is where you should be asking them for their contact information, in exchange for that piece of content or resource they'll find valuable. Once you've collected the prospect's info, the marketing automation software will sync the data directly to the prospect's profile.

Related Reading: Lake One's Lead Gen Guide: Basics of Lead Gen
2. Automated Email Campaigns
Once a prospect hits that landing page and provides their information, quick lead follow up is a must. Wouldn't it be great if you could automate that outreach and subsequent follow-up communications, all while making it custom to the recipient? Spoiler alert, you can.
We've all been on the receiving end of an email that was clearly sent to a bunch of people and there's absolutely no personalization involved. How special did you feel? More importantly, did you even open and read that email? Probably not. With marketing automation software you have the ability to personalize, which is important. In fact, marketers saw an average increase of 20% in sales when using personalized experiences.

Thanks to marketing automation, gone are the days of having to manually enter in prospect or lead information to ensure they're getting a personalized experience. Using MAPs allows you to send automated and personalized emails at scale and implement email drip campaigns, which is a great way to nurture your leads. Most programs come fully equipped with segmentation capabilities, which allows you to divide your lead database by channel, sales funnel position, what industry they're in and much more.
3. Custom Website Experience
Offering a custom and personalized website experience to your prospects and leads can provide increased engagement and decreased bounce rate. Are you sensing a theme with all this talk of personalization and customization? Your buyers have come to expect it, and if you want to increase your leads, we recommend following suit.
Imagine your leads hit your website and you have the ability to personalize your blog recommendation to them. Or serve messaging that's tailored to a specific buyer persona. It's no wonder why Dynamic Yield saw a 111 percent increase in demo requests after personalizing elements of their site. That's the beauty of automation. It allows you to move away from the one-size-fits-all experience and give your buyers a truly personalized journey.
4. A/B Testing
So now that you've got your landing pages in place, your lead nurturing emails are being sent and your custom website experiences are happening [thanks to your marketing automation], you can set it and forget it, right? Not quite. What works today and for one person, might not work tomorrow and for someone else. When in doubt, test it out. A/B tests on your landing pages, emails, and more can show which content, headlines, or images resonate best with your audiences. Once you have that data, you can use it to customize your appeals. But how? You guessed it, marketing automation. The more you know about what your audience is looking for or what they respond to, the better content you can serve them and the more likely they are to become leads and then hopefully customers. More on A/B testing here.

5. Sales and Marketing Collaboration
Last, but certainly not least, can't talk about lead generation without mentioning the importance of sales and marketing alignment. Everyone has the same goal: convert leads into customers. The way they go about doing this can look very different. Same goal, different approach. So where does marketing automation fit in? While CRMs centralize all the data that sales needs when it comes to incoming prospects and accounts, marketing automation platforms help marketing centralize the customer behavioral data from website activity, email campaigns, social media engagement and more. (Checkout of favorite lead gen tools here.) Using this behavioral data to help improve lead quality can help eliminate some of the disagreements between sales and marketing. Better lead quality and more aligned smarketing teams? It sounds like a win-win.

These are just a few of the ways that marketing automation can help boost your lead volume. But don't just take our word for it. According to VB analyst Andrew Jones, 80% of marketing automation users saw their number of leads increase, and 77% saw the number of conversions increase. But remember, the content you're providing needs to be relevant and of value to these leads. Content for the sake of content isn't going to move the needle. You have to be intentional about what you're creating and who you're creating it for. Let your content be smarter and your automation work harder to achieve your lead gen goals.