September 22, 2023
Take Your Manufacturing Sales and Marketing Video Strategy to New Heights
Zoë McKinney
Embracing the power of video is game-changing in amplifying your manufacturing sales and marketing strategy. In the growing digital world, video has become a powerful tool that clicks with customers and allows manufacturers to express their stories in an engaging way.
This blog is based on Lake One's webinar with our expert friends in sales, video production, manufacturing, and marketing. Check out what we talked about!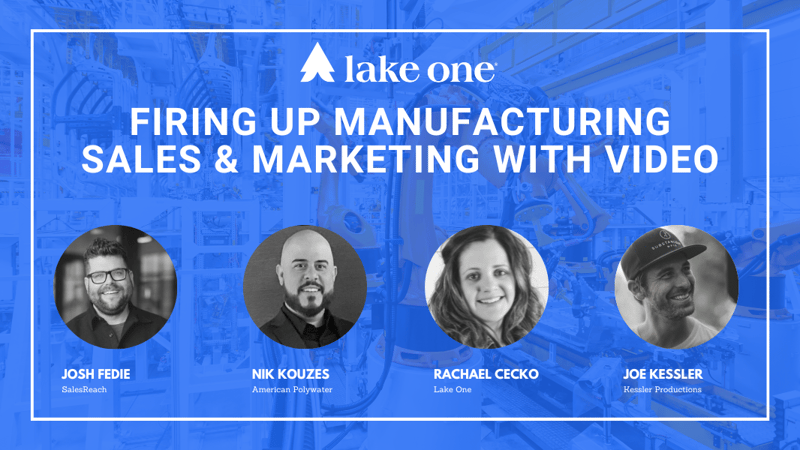 Video Makes a Splash
Adding video to your sales and marketing strategy is a win-win. Customers love it and it gives manufacturers unique opportunities to showcase what they are about.
Why Customers Connect With Video
It's engaging! In the digital era, video content has become a powerful magnet for engaging audiences, surpassing plain text. When you're scrolling through your social media feeds or sorting through a packed email inbox, stumbling upon a fun video instantly grabs your attention and piques your curiosity. It stands out, prompting customers to interact and respond in ways that text can't do.

Why a Sales and Marketing Video Strategy Benefits Manufacturers
Show and Tell in Real-Time: Video allows you to showcase your company's service or product much more effectively. Show them how it works instead of telling them.
Added Personality: Every manufacturing company has its distinct personality and story. Video brings this to life, adding a human touch to your brand, and increasing relatability and trust.
Digestible Messaging: In a world overloaded with information, video simplifies content consumption. Viewers can effortlessly learn about your products and services through video, providing a more efficient and enjoyable experience.
Personal Connection: Video creates a sense of personal connection, making customers feel like they're having a one-on-one experience with your brand. This strengthens audience bonds and fosters loyalty.

Video Blunders to Avoid
Creating effective video content requires finesse. Here are some common mistakes to look out for:
Overloading Messaging: Don't pack your videos with too much information. Videos should be short bursts of digestible content. Err on the side of multiple short videos instead of one that's drawn out.
Pursuing Perfection: Striving for perfection can slow you down. Focus on delivering answers and simplicity; viewers prioritize value over perfection.
Doing it alone: Don't try to do it all by yourself. Utilize your sales, technical, and marketing team members to create well-rounded, informed content.
Getting impatient: Don't give up too soon! Building a video presence takes time. Josh Fedie's advice: The first 20 might not be your best, but keep going.

Hitting record and signing off: Don't just hit record and hope for the best. Invest time in planning and editing; your message should be clear and compelling.
By avoiding these pitfalls, you'll be on your way to creating effective video content that resonates with your audience.
Tips to Kickstart Your Manufacturing Video Strategy
Getting started with video might seem daunting, but it's much simpler than you think. You don't need all the fancy bells and whistles to explore your company's video potential. If you have a smartphone, some decent lighting, and a clear message in mind, you're already well-equipped to begin.
Beginners often underestimate the power of a well-crafted message captured from your home office. Start by experimenting and refining your video strategy. As you progress, consider exploring platforms like Vidyard and SalesReach, both of which offer free trials. These platforms can elevate your video game and help you reach a wider audience.
When you're ready to take your video quality up a notch, don't hesitate to seek outside assistance. Video production companies bring a wealth of experience and top-of-the-line technology to the table, ensuring your videos shine and leave a lasting impact. Remember, the key to success is taking that first step and gradually building your video capabilities.
Here is a great example by the manufacturing company American Polywater, showing how high-quality video and lighting with simple text and music overlays are all you need to create a helpful, engaging video!
Dive into Video With Lake One
In the realm of manufacturing sales and marketing, video is the key to unlocking new horizons and connecting with your audience on a deeper level. Let's get started- reach out to Lake One to get rolling with a video strategy.
There's more where this came from. Check out the full webinar!