LinkedIn is one of the popular social networks right now. With over 610 million users, it's the epicenter of business networking and the perfect place for thought leadership. It's also a fantastic place to launch your ABM. Here's what you need to know to launch a LinkedIn account based marketing strategy.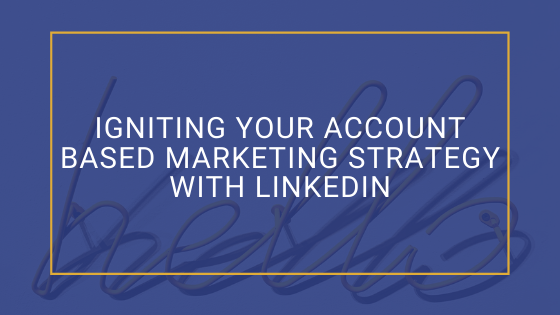 Why Use LinkedIn for Account Based Marketing
Unique amongst all other social networks, LinkedIn is purely business-related. It's mostly free of politics, memes, and the unsolicited parenting 'advice' that comes with other social platforms. People using LinkedIn are on it to network, promote themselves, and grow their businesses. They are inherently primed to have conversations about their companies.


That notion, along with LinkedIn's native tools, makes it one of the best places to launch an AMB strategy. We'll get into the specific tools shortly, but regardless of which tool you end up using, LinkedIn targeting is simply unmatched. Why? Users self identify on LinkedIn. They give you their job title, company, and job description alongside stats on the companies themselves, like size, location, and core business description. This makes it incredibly easy to find specific people for the purposes of account based marketing.


How to Use LinkedIn for ABM
Building an account list
As mentioned above, LinkedIn makes it easy to identify potential good business fits based on their shared information. Unlike running an ad that might target types and categories, ABM protocol is to actually find the specific people/accounts to target. You'll actually be on LinkedIn searching for Jane Smith, CTO of Acme Co., and not just Acme Co. look alike audiences. You'll use LinkedIn's advanced search feature to find the types of accounts most suited for your business.

InMail
LinkedIn Inmail is for all intents and purposes paid direct messaging. If you're a Basic LinkedIn user, you can only direct message your connections. InMail, which is only accessed through a LinkedIn Premium subscription, is how to go around that. Start by drafting a templated message that you can use as the base message to all of your identified accounts. Then personalize that template. Do you have somebody or something in common? Perhaps a mutual connection or ties to a former company? Include that personalization on your Inmail. Make sure your subject line is clear, attention-grabbing, and concise.

Sponsored Content
Sponsored content is just a fancy way to say "Ads" in LinkedIn terms. The only difference is that you'll be promoting content as the term suggests. The ads will display in the newsfeed of your targeted accounts. Make sure the content you're promoting is highly aligned with your persona. If it misses the mark, it won't be effective or produce the ROI you're seeking. We also recommend promoting content that aims to inform your audience- something at the awareness or consideration stage of the buying funnel. They most likely won't be ready to buy or complete a form to speak with somebody, especially if your ad is the first they've ever heard of you. Start with something noncommittal.
Click here to learn more about using LinkedIn Sponsored Content.
Lead Gen
Hand-in-hand with sponsored content is lead generation. Offering a piece of content for your accounts to convert on looks like gated content: access to your valuable content in exchange for their contact info. Once you have that contact info, you can nurture those leads. Luckily, LinkedIn integrates with HubSpot's CRM. Any contacts generated through sponsored content will automatically be imported as contacts into HubSpot. Read more about that here. This cuts out manual work and allows you to easily enroll leads in workflows or sales sequences.

Related Reading: Lead Generation Guide: Basics of Lead Gen

Sales Navigator
Sales Navigator is a native tool within LinkedIn. It allows you to take all of the above LinkedIn account based marketing strategies to the next level. Your advanced search is more advanced with Navigator. Accounts will be recommended and scored. Best yet, you can set up to receive alerts about updates on your leads, create notes and tags, and see who viewed your profile. It also integrates with your CRM as well.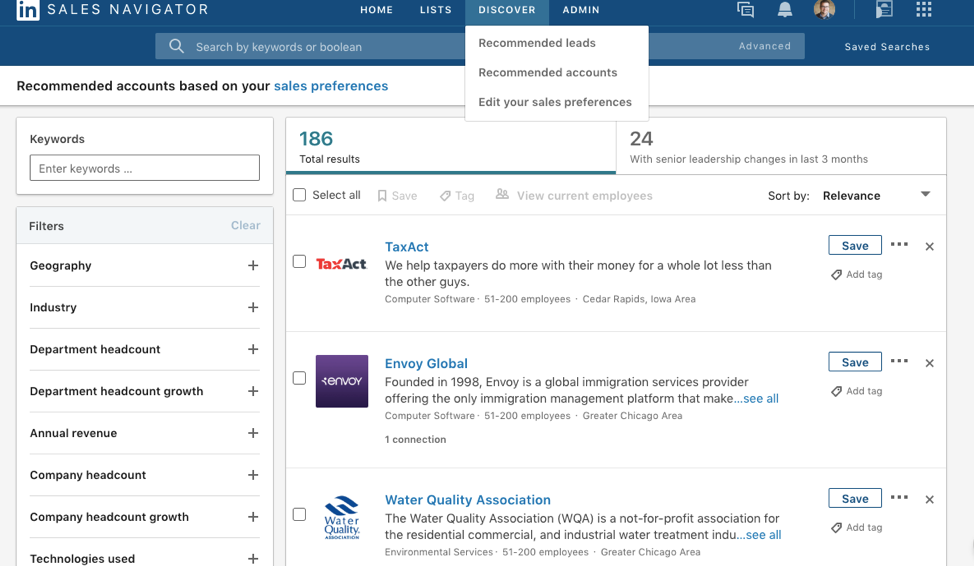 LinkedIn & Marketing Automation Platforms for ABM
To say the integration with a CRM/CMS that does marketing automation makes life easy is a huge understatement. Marketing automation allows you to automatically nurture and follow-up with the leads you generate on LinkedIn. This might look like the automatic send of a follow-up email 3-day post initial outreach. It could also be sending automated notifications to your sales reps to take the next step in their selling process or it could be the trigger to enroll a contact in a workflow based on their response (or lack thereof).

How to Measure Results
You should be able to measure most of your LinkedIn account based marketing efforts within LinkedIn. What are your InMail open rates? What's your response rate? A typical cold sales email has about a 16% open rate. Personalized InMail can increase that by as much at 13% bringing your targeted open rate to about 29%.
You can also track the conversion rates from your lead generation and Sponsored Content efforts. A standard ad click rate is 0.06% for LinkedIn. From there, you can expect to see a landing page conversion rate of 4%, according to Unbounce. However, we would expect the rates from an account based marketing campaign to be higher than standard. Your targeting is much more selective and if you've done your research thoroughly, they should be much more ready to engage with your company.
Another area to measure for success is your deal close rates. How do your close rates compare to your benchmarks or goals? Are you moving more people further along in your pipeline? Having more sales calls? These are all things you should already be tracking. Compare those against your AMB efforts to determine success.

Conclusion
A LinkedIn account based marketing strategy can be executed through the many native tools LinkedIn offers. It's a great place to start your ABM efforts because LinkedIn users are already primed for discussing and growing their companies. ABM on LinkedIn begins with the ability to search for and find specific, highly relevant accounts. Using Sales Navigator can take the already advanced search functions to the next level, allow you to make notes, and find you more prospects. Utilize the integrations these tools offer and connect your CRM. That way you can build automation and lead nurturing into your ABM strategy in order to close more sales.