Video is growing in popularity across all areas of the online experience. It's everywhere. And that includes the selling process. Here's how and why you should be including sales videos into your existing selling process.
What are Sales Videos
As we refer to them, sales videos are 1:1 videos intended to aid in the sales process. These videos are sent from a salesperson to their prospect or new client to create a connection, simplify complex information, and build rapport.
Sales videos are different from promotional videos or commercials in that they are not a high production venture. They are simple, personalized, and created for a specific prospect to watch. Typically, they address the lead by name and acknowledge their company and invite them to take the next step in the sales process. That might include replying to the email, booking a meeting, or even signing a contract.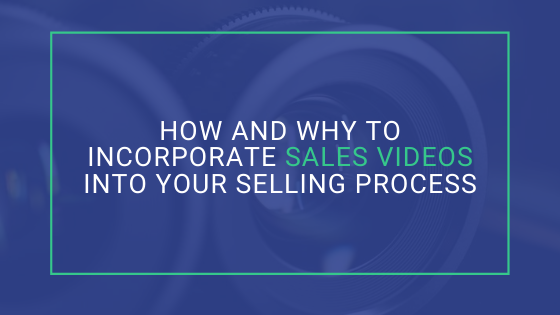 Why Video Increases Sales
Given that you don't have unlimited amounts of time, is it worth the effort to create sales videos? Well, our friends at HubSpot say that "Reps that use video in prospecting, relationship-building, and sales emails see 5x higher open rates and 8x higher open-to-reply rates." Furthermore, video was named the type of content with the best ROI by 51% of marketing professionals worldwide. Why it works is a little less concrete.
Need more leads to test your video skills on? Get the guide to lead gen.
Effective Communication
So much gets lost in text. From tone to body language to the nuances and emphasis of specific words, the written word is left to interpretation more than video or face-to-face communication. With video, you're able to communicate your exact point in the precise manner you intend. This can lead to less back and forth, better understanding, and a higher level of confidence- all of which can translate into sales.

Source: Vidyard

Authenticity and Trust Building
The confidence built by effective communication turns into trust. I am 100% guilty of deleting sales emails that come into my inbox by purely assuming the person on the other end is a bot or scammer. I don't give them much credence or credibility because I don't have any real reason to believe that there is a live person on the other end. Video changes that. Seeing a face, even just as a thumbnail, automatically adds authenticity. Just like that, you go from spammer to a real person.
Even when you have an established relationship, video builds trust. Hearing a voice, seeing a face, the automatic response to smile when you see a smile… all those things help build business relationships.
Setting Yourself Apart from the Competition
Video is something that everybody talks about, but few actually use it when it comes to the sales process. It's inherently attention-grabbing. If you start now, there's a good chance you'll be ahead of your competition, especially if you're in an industry that's focused on more traditional marketing.
Ways to Use Sales Videos
Sales videos can be incorporated into your existing sales processes. You don't need to reinvent the wheel by any means. Creating quick videos might save you time by turning what could be writing a lengthy email into recording and sending a 2-minute video.
Related Reading: 5 Ways Lake One Uses Vidyard for B2B Video Marketing
Here are five ways to use sales videos in your existing process:
Prospect emails: Send cold or warm emails to prospects you haven't had direct contact with yet. Show enthusiasm and be eager to meet them.
Thank you's and recap emails after a meeting: Summarize a meeting and state the high-level to-dos and genuine gratitude for their time.
Meeting reminders: Self-explanatory but a natural way to deliver face time and build a connection.
Explaining complex information: Sometimes it's hard to communicate complex ideas into an email. Video allows you to communicate more effectively in a manner that's easier to digest.
Product demonstrations: Don't launch into a demo if you haven't made acquaintance yet, but when the time is appropriate, video can be highly effective in this area.
Source: Vidyard
How to Create Sales Videos
Don't over complicate things here. Anybody with a smartphone or a computer with a camera can create a sales video. The specific tools listed in the section below can help you physically create a video, but here are some tips to keep in mind regardless of your platform:
Make eye contact like you're speaking with the person on the receiving end.
Introduce yourself and your company. Even if you've had a conversation or two before, a friendly quick intro like, "Hey, it's Danielle from Lake One!" can you help become memorable.
Keep it brief, under 2 minutes. Some topics warrant long videos, but generally, the shorter, the better as long as you're still able to communicate effectively.
Consider your environment and clothing. Be professional. It's a no brainer, but perhaps recording a video for the CEO of ABC Co. while wearing your favorite tattered college t-shirt may not be the best choice.
Be authentic. Turning robot just because you're recording is as bad as turning into the cheesy local car dealership owner, recording commercials in a gorilla suit. Authenticity in video will get you everywhere.
Where to Host Sales Videos
There are a number of places to host your sales videos. No matter where you decide to do it, make sure it's a secure location. You want to be able to protect your videos and limit who has access.
Ultimately, you could just host your videos on Google Drive or a secure YouTube channel. However, if you're going to put the effort into creating your videos, a video hosting platform service is worth your effort. You want to find one that specializes in 1:1 video and be cognizant of the features that help you be successful in that area. There are many video hosting platforms out there, but a design for 1:1 sales videos is notably unique.
Vidyard
Vidyard has everything you need to create quality, personalized sales videos. Their features are what makes them Lake One's video platform of choice. The feature that had us most star-struck is the analytics. We can see if our video was watched, who watched it, what percentage of the video they completed and more. This data is extremely valuable information for your prospecting and selling.
Vidyard also lets you add CTAs to the end of each video, which is perfect when you're asking somebody to take the next step. Password protection and the ability to create customized thumbnails on each video are huge pluses as well. Oh, and creating videos is incredibly simple. They offer a Chrome extension so you can literally produce a quick video with the click of a single button. Hosting space with Vidyard is unlimited, too, so you can create and share as many videos as your heart desires.