B2B social media strategy is all about standing out. To distinguish your brand from the myriad others across Facebook, Instagram, and LinkedIn, you need content that is not only engaging, but unique and dynamic. The more that other businesses expect a new and enriching experience from each post, the more they'll come to distinguish you from the rest of what they see, with a measurable, positive impact on your bottom line.
Employee advocacy is the unsung hero of social media success. Getting employees engaged produces truly staggering social media marketing outcomes, raising performance by as much as 200% and pushing posts more than 500% farther. The more effectively you can incorporate your staff into these efforts, the more unique, memorable, and successful your brand will be.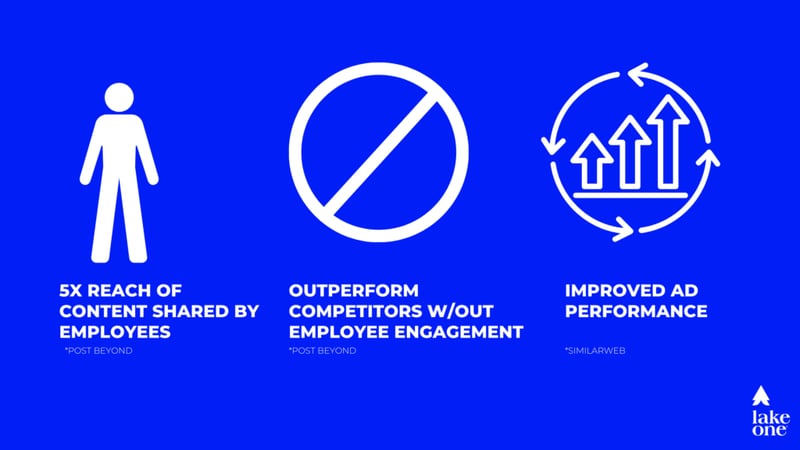 Employee Advocacy for B2B Brands
Employee advocacy involves enlisting employees to create and distribute social media posts organically and proactively. It works best when employees go beyond simply following instructions or sharing pre-written posts. Instead, they should be given the flexibility, training, and incentives to write their own posts and distribute them in their own ways. This engagement offers myriad benefits compared to a traditional social media strategy, including:
Humanization: Individual employees often have important insights into the day-to-day use of a company's products or services— insights that you might not know to ask about in a poll or focus group. By getting employees involved in social media advocacy, you gain access to these insights and can promote your products in ways that are most directly relevant to potential clients.
Diversification: Employee advocacy multiplies the number of voices, backgrounds, and writing styles that influence your social media strategy. Different employees will talk about your products in different ways, identify different potential clients to appeal to, and draw on different personal experiences when describing and promoting your products. As a result, your social media campaign will appeal to a wider range of people while appearing less monolithic.
Dynamism: Different employees not only have different characteristics and backgrounds but also develop differently over the course of their careers. Employees can incorporate their new insights and skills into social media posts as they develop them, leading to organic changes in both content and style over time. The more that you're able to offer something new over time, the stronger the incentive for your past and prospective clients to keep following you.
While employee advocacy can enhance any company's social media campaign, it is particularly valuable for B2B businesses. Because B2B firms tend to sell more expensive items, their sales cycles are longer. On the one hand, this gives them the time to establish a strong, memorable brand among potential customers. On the other, it means that if they fail to establish such a brand, those prospective customers won't trust them enough to make such high-stakes purchases. Humanizing and diversifying their message is thus indispensable in establishing the lasting relationships with other businesses necessary for success. (Looking to speed up your sales cycle? Check out our LinkedIn for ABM post)
Setting Up a Strategy
While employee advocacy in B2B social media has enormous upsides, you have to make sure that you implement it correctly. B2B marketing requires brand and messaging consistency, so you want to watch out for anything that would result in a contradictory or confusing message. By adopting a deliberate but flexible social media strategy for your employees, you can minimize any confusion while maximizing the benefits of their advocacy. Such a strategy starts with: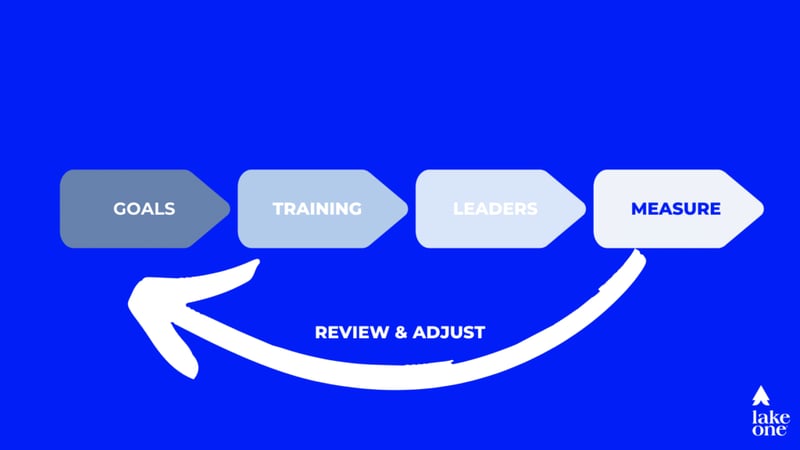 1. Establishing Goals & Guidelines
The first step is to figure out what outcomes you hope to achieve through employee advocacy. This means defining the message you want your employees to convey, the types of content you want them to spread, and the business outcomes you hope will result from your social media efforts. Now is the time to make sure that these goals align with one another. If an outcome goal is to cultivate trust and convince preexisting business clients to become repeat customers, consider whether your message and content goals are likely to promote this outcome.
You can also set process goals at this stage, such as selecting specific social media channels to use or specific wording to adopt. But don't go overboard on process goals; remember, the benefit of employee advocacy is that employees often find new and unexpected paths to success, so you don't want to regulate them too heavily.
2. Training Employees
Once you know your message, content, and outcome goals, the next step is to train employees to achieve them. A good training program should combine general social media best practices with a specific overview of your company's strategy, social media policies, and goals. If you give your employees a clear sense of what they're trying to achieve and what to avoid, they'll feel more comfortable improvising. Remember also to make this process interactive, so that employees have a chance to share ideas for doing things differently. When showing your company's preexisting social media profiles, for example, you should open the floor for employees to recommend using different networks or reworking the profiles you already have.
3. Identifying Leaders
During training, you'll identify individual employees who have a knack for social media and a passion for your brand. These individuals should be the front-runners of your social media strategy. Invite them to take the first steps in sharing company content on their social media profiles, and then pay attention to what they do, what works, and what doesn't. You can incorporate these lessons back into your social media policies and training. Then, when you involve the rest of your employees in social media advocacy, the front-runners can mentor them, sharing their talents and wisdom so that everyone can benefit.
4. Measuring Outcomes
As with any marketing endeavor, it's important to make sure your employee advocacy strategy is actually achieving its intended results. Thus, throughout the process, make sure you're gathering data on your social networking presence. What metrics you emphasize will depend on what your goals are. If your goal is simply to increase general awareness of your company, track the number of followers for each of your profiles and the number of likes, shares, and comments your content receives. If the goal is more engagement from likely clients, look for comments and shares from businesses or business owners in the fields you sell to. If your goal is to encourage brand loyalty, track conversion data and see what proportion of those are from previous clients. Then incorporate all this data going forward, expanding the activities that are best furthering your goals while reworking those that aren't getting results.
Employee Advocacy in B2B Social Media: Success Stories
To fully understand the benefits of employee advocacy and the best ways to put it into practice, consider how other B2B companies have used it. Some of the most successful examples include:
Employee Advocacy is Key for Successful B2B Social Media Marketing
Time and again, employee engagement has led to dramatically better results in B2B social media marketing. Whether your goal is to increase visibility, build trust, or keep your clients coming back for more, employee advocacy is the solution!
For help with your employee advocacy B2B social media strategy, please don't hesitate to reach out.