Account-based marketing (ABM) has developed into an extensive strategy that every company wants to integrate, whether they are large giants in their space or simply hitting the ground running. ABM focuses on fully identifying and engaging your key accounts and giving them a personalized and individual-focused feel.
When you combine the resources of your entire organization and give them the same allure as a "mom and pop" shop, your brand identity and client loyalty will surely skyrocket. If you want to target high-value accounts using the transformative power of ABM, then this is the guide for you.
Once we explore its benefits, we'll present you with four real-world account-based marketing case studies that have had a massive impact on many common sectors and industries. Armed with this knowledge, you will be able to integrate the usefulness of account-based marketing into your team fully.
The Benefits of Account-Based Marketing
Before diving into real-world case studies, let's explore the benefits of account-based marketing. For a holistic definition, account-based marketing is a focused growth strategy in which Marketing and Sales collaborate to create personalized buying experiences for a mutually identified set of high-value accounts. Here are four of the most effective benefits:
Higher Conversion Rates: ABM allows for highly personalized interactions, increasing the likelihood of converting your leads into paying customers.
Improved Customer Retention: Understanding the needs of each account is not just a valuable matter; it's necessary for retention. When a customer is fully understood, you can provide ongoing value – cementing a higher customer satisfaction rate and, ultimately, keeping your client!
Aligning Sales and Marketing: ABM encourages collaboration between sales and marketing teams, leading to a more cohesive and effective revenue generation process.
Increased Account Value: Research from the ABM alliance finds that companies that have implemented account-based strategies have seen a lift in average contract value of 171%.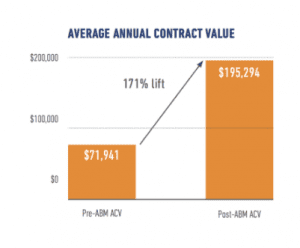 4 Successful Account-Based Marketing Case Studies
1. PitchBook's ABM Campaign in the FinTech Industry
Our first account-based marketing case study begins with Seattle-based research. PitchBook helps firms by offering access to valuable market data and insights that benefit investors, traders, algorithms, and other funds to make better decisions.
Key Takeaways
Ambitious Sales and Revenue: PitchBook set lofty goals for their sales and revenue, which led them to consider many different marketing techniques and ways to reach new and existing customer bases. They quickly pivoted to an account-based approach, complicated by the evolving customer profile in an increasingly remote world.
Personalized Content: PitchBook combined account scoring and machine learning with their sales outreach, yielding significant results. Using their existing CRMs and professional social media sites, they could deploy program-specific solutions to their accounts at every stage in the funnel.
Multi-Channel Outreach: Personalized content wouldn't affect their customer base if it weren't delivered in the proper context and method that is valuable to the customer. PitchBook quickly recognized this, integrated their third-party machine learning and data with their Salesforce CRM, and targeted each customer dynamically. Once the customer's intent was captured, they fully leveraged the power of automation to have laser-targeted outreach for these newly discovered high-priority accounts.
Results: Within three months of adopting this method, PitchBook saw highly satisfying results very quickly. Opportunities from accounts receiving targeted coverage and tailored ads saw a 170% increase in volume. Website visits, a metric near and dear to any brand's heart, rose by 79%. Finally, and most importantly, existing account engagement surged by a whopping 220%.
2. Tipalti's ABM Campaign in the Tech Operations Industry
Tipalti is a cutting-edge solution that streamlines manual processes for businesses so that they can focus on more critical tasks that drive revenue and growth. Tipalti focuses on providing data on the financial patterns of a company to help them achieve success through data-driven insights and process improvements.
Key Takeaways
Intent-Based Targeting: Tipalti's account-based management team decided to play a pivotal role in orchestrating the symphony that was Tipalti's go-to-market strategy. This involved reaching a more cohesive plan around intent-based marketing, which aligned messaging and oversaw technology stack management to provide better engagement with target accounts, new and existing, to optimize revenue growth.
Customized Product Demonstrations: Tipalti armed their sales reps with the personalized knowledge they needed from their data generation through marketing efforts. Sales reps identified new opportunities through 1:1 coordinated efforts, offline engagement strategies, and segmenting the accounts to have an equal distribution of the required resources to get the job done.
The "WOW" factor: Tipalti quickly realized that the customer rarely buys on pure demonstration of the facts themselves; they wanted to know that their business partner would support them in their growth efforts. After all, Tipalti is not a one-and-done product or service. Customer onboarding and "delight" were pivotal in automating gift boxes to clients during this process.
Results: Using a 32% marketing headcount dedicated to demand generation, an integrated approach to multi-channel and multi-disciplinary marketing, and sales/marketing collaborations, both cold and warm outreach increased rapidly. As a result, there was a YTD 26% item acceptance and drastically improved engagement rates with personalized emails.
3. Propeller Aero's ABM Campaign in the Engineering and Construction Industries
Propeller Aero provides leading 3D mapping solutions and data analytics to companies of all sizes and revenue targets. They are instrumental in construction, engineering, manufacturing, and businesses that deal with tangible goods, worksite measurement, and inventory management.
Key Takeaways
Growing too Fast: Propeller Aero saw rapid growth from the onset, which is not always a significant problem. To rapidly mitigate their growing pains, they had to ensure accurate lead targeting and provide a more personalized buying experience for specific accounts. Since they were a new player then, their methods relied on their staff, and they quickly needed a solution to drive growth with high-priority accounts. Account-based marketing needed to be strengthened.
Reporting and Tracking: Before switching to an integrated solution, Propeller Aero struggled with tracking its market penetration in its CRM, and reporting was a significant obstacle in providing cross-team visibility. They quickly realized that if the ABM strategy was to be successful, they needed first to deploy the proper tools to receive data-driven insights and feedback on their outreach efforts and strategy.
Precision Targeting: Propeller Aero aligned marketing and sales efforts with HubSpot and analytic tools to enhance the efficiency of their coordinated methods. Their strategy was to create a personalized buying experience for target accounts. Because their solutions are customizable, no two clients are ever the same – and account-based marketing provided more than just a great way to conduct outreach; it developed a strong relationship with the customer in their journey towards adopting a better solution from Propeller Aero.
Results: Propeller Aero received proper insights on its marketing efforts through accurate attribution reporting and modeling, which enhanced visibility and accountability. Integrating a targeted account dashboard within their CRM resulted in a 23% increase in average contract value and a 12% higher close rate for all deals acquired or upsold through ABM.
4. Mindtickle's ABM Campaign in the Professional Services and Sales Industries
In this account-based marketing case study, Mindtickle addressed the pain points that many brands and businesses have, training and building sales representatives and sales solutions for their clients so that they can drive more revenue, warm leads, and increase the effectiveness of their pipeline.
Key Takeaways
Strategic Account Planning: Mindtickle understood that if they were to exemplify the epitome of efficiency in sales and marketing efforts, their best way to do this was to adopt an ABM strategy to have more meaningful conversations, solutions, and interactions with their high-priority accounts. While many sales reps could share some familiar obstacles, all their clients need customized solutions and training to optimize their efforts.
Pilot Program: Some companies decide to launch headfirst into their strategy, but Mindtickle adopted the approach they preach towards their vendors, clients, and business partners – setting yourself up for success with a trial run. A pilot program was developed and launched to gauge market interest and leverage predictive analytics and data to construct timely and laser-targeted messaging in the buyer's journey. One-to-one display ads, customized landing pages, and personalized videos were created for each account, followed by a 16-step follow-up and nurture sequence.
Overall Cohesion: Mindtickle could see the fruits of their labor ripen quickly. Sales, marketing, and growth operations were now prioritized their day-to-day according to in-market accounts. Due to the newly found collaboration and analytics tools, everyone could lead the account-based movement and push it toward an eventual close, putting them in a win-win scenario with their accounts.
Results: Mindtickle learned three major lessons: to define their target customer with precision and grace, to implement robust tracking and measurement, and to act on these results for improvement and learning opportunities. Finally, they learned to leverage personalization to amplify campaigns where accounts spoke directly to a rep 1:1. This resulted in $1MM in additional pipeline revenue within seven weeks of launching the pilot program, 15x higher engagement rates, and 6x higher conversion rates.
Driving Growth with Account-Based Marketing
These account-based marketing case studies exemplify the power of account-based marketing in driving targeted growth across various industries. Your organization can achieve remarkable results by understanding the unique needs of high-value accounts and tailoring marketing efforts accordingly.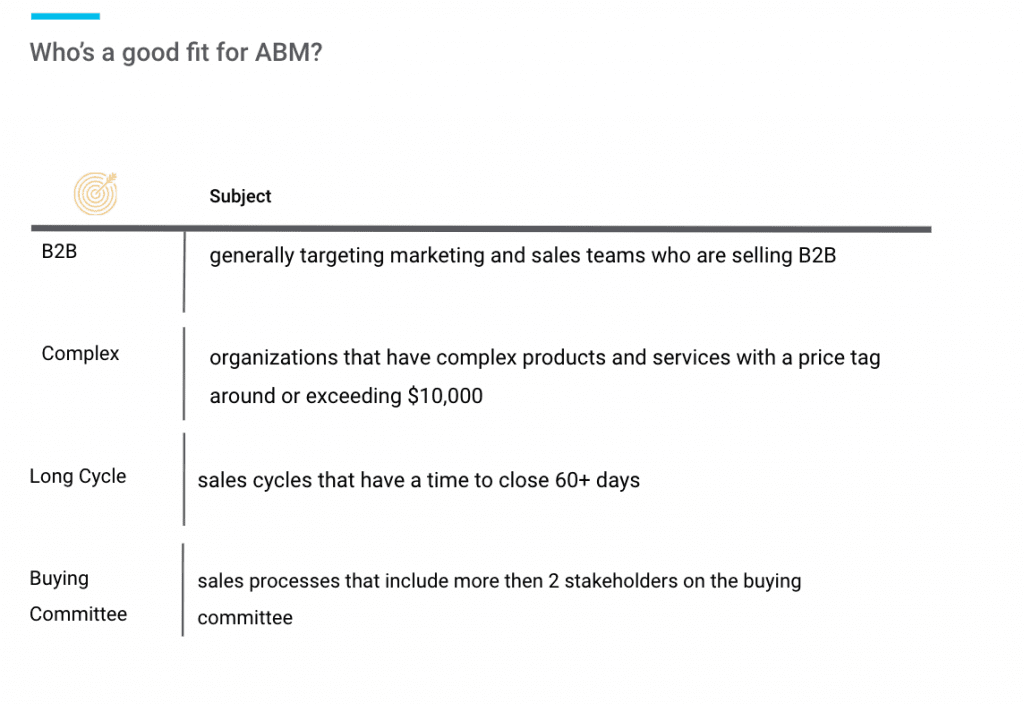 Implementing ABM effectively requires strategic planning, personalized content creation, and precise targeting. We've modeled some of these best practices, and B2B organizations can unlock new success and revenue generation levels.
Connect with us today to learn how we're helping companies of all sizes implement effective marketing techniques.