B2B marketers are flush with myriad data points to measure and report on. The problem is – most of them don't mean shit to your P&L. For leadership teams getting into the minutiae of PPC impressions or social media followers – it just muddies your ability to see the forest through the trees. In B2B SaaS it can be really misleading because marketing could be burning cash under the disguise of driving leads – leads that aren't doing anything. So what metrics matter? The ones that tie to revenue. There are a few core B2B SaaS marketing metrics every organization should keep their focus on. Before you freak out about other indicators and such, give this a read.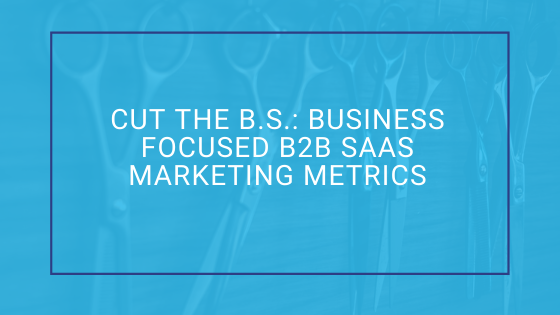 Marketing Sourced Revenue
At the end of the day, marketing needs to be contributing to revenue potential. Is marketing sourcing revenue? I'm not talking leads, I'm not talking MQL. Are you able to trace back that a dollar came from marketing activity? This will inevitably require your organization to rely on adopting an attribution model since most every journey doesn't go Email, Click, Buy or Ad, Click, Buy. (Wouldn't that be nice?!) That said, find an attribution model that aligns with the goals of your sales and marketing activity and gets comfortable with it.
Marketing Sourced Pipeline
In the same line as sourced revenue – how successful is marketing at adding new opportunities to the pipeline? In well-aligned sales and marketing teams for SaaS – it can make sense to give marketing pipeline targets and quotas just as you would sales.
Related Reading: SaaS Inbound Marketing: Taking Your Business To the Next Level
CAC (Customer Acquisition Cost)
The customer acquisition cost is one of the more straightforward SaaS marketing metrics. It tells you how much it costs to bring on new customers over a given period of time. Take your sales and marketing spend and divide by the total number of customers.
Knowing this rate can help plan and forecast growth – but when combined with the next metric it's powerful in assessing the return on overall sales and marketing activity. That return is where growth management truly becomes effective.
Months to Recover CAC
The final essential SaaS marketing metric to monitor is how long it takes to recover the costs spent to acquire a new customer. This helps determine how quickly a customer starts driving a positive ROI.
This can be calculated by dividing the CAC by Monthly recurring revenue times your gross margin (revenue – cost)

Key Takeaways for B2B SaaS Marketing Metrics
At the end of the day – there is plenty B2B SaaS marketing metrics to monitor and report on. I'm not suggesting that other data points aren't worth watching as an indicator of good or bad performance upstream from the revenue goal. In order to truly forecast out a revenue machine – you need those measurements.
What I am suggesting, is that when it comes to essential B2B SaaS marketing metrics- making a business impact is the name of the game and at the leadership level that's what matters. Leadership that has bought into marketing, trusts a modern marketer to be keeping an eye on those downstream measures and to sound an alarm when needed. Measuring marketing's impact on revenue, driving revenue opportunities, and making a positive impact on customer acquisition is job number one.