Wouldn't it be nice if your content was set it and forget it? Technically, I guess it could be, but you'd be remiss not to optimize old content. Why? Because everything changes- SEO rankings and trends, competitors coming in and out and all up in your space, your own products and strategies…
So, here is a step-by-step process on how to optimize existing content. Don't go about this all willy-nilly. I promise that if you put a little thought and strategy into a plan, your optimization process will go much smoother with better results.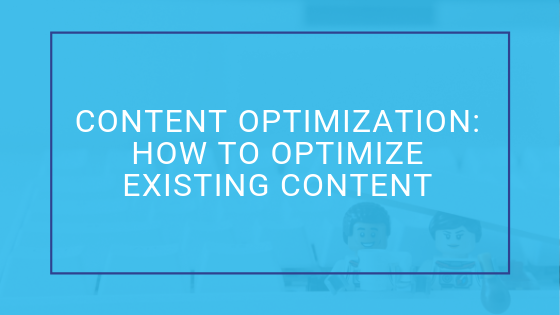 Start with Strategy
Before you begin, think about how (or if) your marketing strategy has changed. Have your personas changed or do you know more about them since you first published? Have you honed in on a specific niche or decided that your niche was actually too small? If you know your objectives well, this step will be easy. You may need to do a little research into your strategy docs, but you won't otherwise need to do anything concrete here.
Now you need to plan out what content you will be optimizing and how you will be optimizing it. What's the goal of the content? Conversions? Traffic? Let's look at CTAs, landing pages, and blogs specifically.
Optimizing Existing CTAs
The goal of a CTA is a click. Therefore, look at your all-time click rates for all of your CTAs. According to Niel Patel, a good click-through rate of a CTA is about 3%. You can either optimize all of your CTAs below 3% or you can start with a chunk of the lower performing ones. How to proceed with your optimization plan will depend on the answers to the following questions:
Questions to Ask on CTA Performance:
Location:
Where is the CTA located? Do I need to add it to more places? Is it getting exposure on those pages or is it buried in the noise of other content? Is it still relevant to those pages?
Design:
How's the creative? Is it similar to other CTAs? Are those CTAs performing?
Root Cause:
Continuing off the previous bullet, do I think it's the CTA design or is it what I'm offering that's ineffective? Do I need to rephrase? Ie- Schedule Your Free Consult vs Contact Us & Start for free.
A/B Testing:
Do I already have A/B testing setup? If so, consider replacing the lower performing of the two and leaving the other as is. If you don't have A/B testing set up, decide whether you want to replace the CTA entirely or add an option B. (Hint: we think A/B testing is the bee's knees!) Know that A/B testing will take longer to get meaningful results for smaller audiences.
Optimizing Existing Landing Page Content
Traffic to your landing pages (LPs) will mostly be addressed in your CTA optimization with the exception of any LPs you have linked in your site's navigation- like contact us. So, let's focus on optimizing landing pages for conversion, as that is their main goal. Pull analytics on your landing page views, conversions, and conversion rates. According to WordSteam, the average landing page converts at around 2.35%, but your conversion targets should be 10% or higher.
Optimizing your landing pages is going to focus on your content and the form + CTA.
Questions to Ask When Optimizing Landing Page Content:
Copy:
Are you clearly describing your offer? Try rephrasing and/or rewriting your headlines and bullet points. Don't forget about keywords.
Relevance:
Is your offer still relevant? Optimizing won't fix the problem, but you might be able to get away with reframing the offer until you're able to replace it.
Image:
Do you have an image? Is it generic or does it depict what you're offering? Check your alt tags while you're at it.
Questions to Ask When Optimizing a Landing Page Form:
Form Length:
Are you asking too much? The amount of requested information should be an equal ask to the value of your offer. A super valuable piece of content will have a higher tolerance for a longer form. Conversely, an overly long form will turn people away if your offer isn't uber valuable.
Form Button:
Does your button match the offer? Consider making buttons like 'submit' into something more specific.
Additionally, heat mapping can be a valuable tool for landing page optimization. There are several free tools available on the market. With heat mapping, you can see how actual users are engaging with your landing pages. These can give you direct insights into what's preventing conversion from occurring. Here are some more tips on building a landing page that converts.
Optimizing Existing Blog Content
For blog optimization, we're going to look at a few different things in combination: internal links, keywords, traffic, and conversions.
Blog Internal Link Optimization:
Pull out your handy-dandy content audit workbook for this section. The content audit is a document that lists the title, description, type, and URL for each piece of inbound content you have. Having this document will be an easy way to reference all of your blogs and offers in one place. If you don't have one, pull up your blog listing page and CTA dashboard within your CRM.
Read through your old blogs and add hyperlinks to your new content where relevant. Same with your CTAs.
Questions to Ask on Optimizing Blog Content:
Offers/CTAs:
Do I have a new, more relevant offer to add to this blog? Before you replace an existing CTA, check if it's working first. Is a smart CTA a good option where CTAs are working?
Blog Links:
Do I have new, relevant blogs to hyperlink?
Bonus:
Are my external links all working?
Blog Traffic and Conversion Optimization:
One of the main goals of blogging is to draw in organic traffic and the other is for your blogs to lead to engagement and conversion. Break out your analytics again to look at those stats.
Pull a list of the top converting blogs and plan to optimize for better traffic.
Take the top trafficked blogs and plan to optimize for conversion.
Questions to Ask When Optimizing Blog Traffic:
Quantity:
How much traffic are my blogs getting? Where is it coming from? Has traffic increased over time? This is a sign that it's starting to pick up steam with SEO. Give it a little push. Has traffic decreased over time? This might be a sign your content is outdated or that your persona's keywords have shifted to other topics.
Keywords:
How was this blog optimized for SEO initially? Could the keywords use a heavier hand? Sprinkle them in. But also consider if your keywords or phrases changed since this was published. If so, make the appropriate updates to match your new strategy. Here are some tips on finding keywords.
Questions to Ask When Optimizing Blog Conversions:
Opportunities for Conversion:
Where are your conversion opportunities placed within your blogs? Make sure you have one within the top ⅓ of the blog and then about every 300 words after.
Relevance:
Are the CTAs in your blogs performing on other pages? Use this as an indication of relevance and placement. Switch CTAs out if indicated (reference your content audit workbook again!).
Monitor Your Content Optimization Strategy
After you've optimized your existing content, keep an eye on it. With any luck, your updates will pay off. However, it is possible they could have a reserve effect. If you set up A/B testing or smart CTAs anywhere, you'll want to monitor those and potentially make additional optimizations based on your results.

Key Takeaways on Optimizing Existing Content
Make a plan before you start. Consider your keywords, persona, and goals for each content type.
Add new content into the old: find places in blogs to hyperlink to new content and replace old CTAs with more relevant offers if they exist.
Consider your keyword strategy and search rankings- add key terms into your content to generate more traffic.